Our special technology and services:
1)R&D: Focus on the development of immunotherapy for hematologic malignancies and solid tumors. To establish a main platform by using CAR-T and CAR-NK technology to treat targeted cells.
2)Product Line: Allogenic and autologous CAR-T treatments for hematologic neoplasms like leukemia and lymphoma etc. Autologous CAR-T therapies for solid tumors such as ovarian cancer, pancreatic cancer, gastric cancer and glioma etc. Nonspecific NK cell therapies for different solid tumors.
3)Service:
A.Lentivirus preparation and external service: According to the stringent criterion of FDA and cFDA, the company has set up an international standards of cGMP clinical-grade lentivirus production workshop which has large-scale equipment for preparation, quality control and management system. Apart from our own needs, we also provide services such as lentivirus reparation for various pharmaceutical companies and scientific research institutions (CRO).
B.Immunological function assessment: The immunological function evaluation system is not only for clinical patients with preoperative and posterior immunological function analysis but also serve the healthy and sub-healthy people.
Autologous CAR-T cell therapy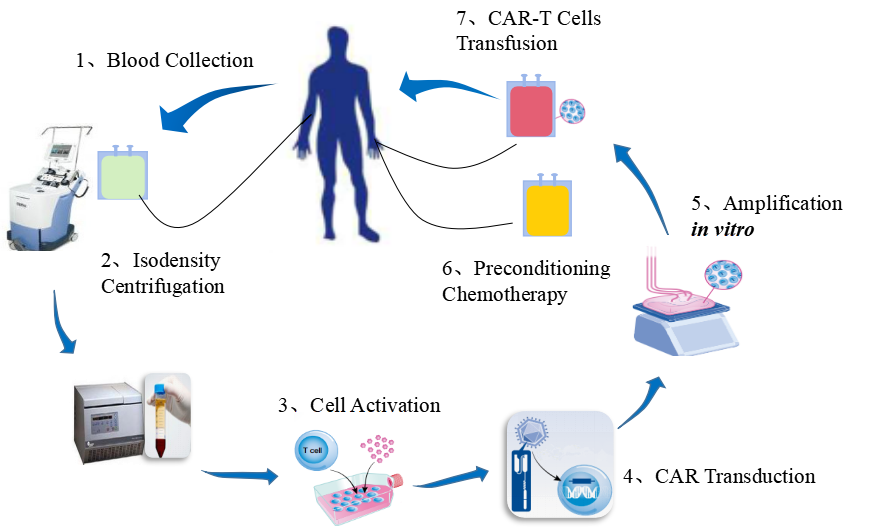 Allogeneic CAR-T cell therapy